Browsing the web, social media activities, taking the occasional selfie, playing mostly rudimentary but highly addictive games, loading up on YouTube cat videos and catching up on one's favorite TV shows while away from a larger screen.
For many of us, those are the essential purposes of a smartphone, and if it can adequately tick all the boxes, it's a must-buy. Even better if it doesn't cost a fortune. But then there is this particular category of mobile consumers, with a particular set of needs and requirements, which Android device manufacturers seem to be largely ignoring these days.
Not us, though. We're here to make sure every specific necessity is fulfilled, so we'll do our best to dig up your top options for work projects. Enterprise users, listen up:
It's beyond sad professional typists have to settle for a two-year-old with Android 4.1 Jelly Bean pre-loaded, no KitKat, let alone Lollipop update hopes, a cringe worthy 4-inch 800 x 480 touchscreen, laggy dual-core 1.2 GHz CPU and crappy 5 MP rear camera.
Not to mention the preposterousness of that no-contract price tag! But until BlackBerry goes for broke with a Google-endorsed, Samsung-co-manufactured slider, we're afraid the Enact has to do. Oh, well, purely as far as text message and e-mail writing goes, the entry-level handheld is the closest you can get to a powerhouse. So, so depressing!
The big, bad, ultra-secure, multi-purpose juggernaut
If answering to urgent e-mails as fast as possible is only part of your job description, the Note 4 offers a huge on-screen keyboard, plus a host of extra business tricks. You have your S Pen always handy for note taking, a security-enhancing fingerprint sensor, full Knox compatibility and stellar multitasking prowess.
The non-optional stylus accessory needs no introduction, your unique fingerprint can be used to unlock the phone if PINs don't feel safe enough, Knox services let you easily switch between personal and work modes and keep everything separate, while the large 5.7-inch display and generous 3 GB RAM ensure seamless running of multiple apps at once. Which you often yearn for when juggling various documents, files and projects.
The bulletproof outdoor companion
Travel a lot? Involved in construction or other potentially hazardous line of activity? Simply worried you'll drop your precious, and both your personal and professional lives will spin out of control? Perhaps the S5 Active can't take a bullet per se, but it'll definitely survive a few bumps and contacts with hard surfaces, as well as up to 1 meter/30-minute swims.
Too bad Knox doesn't work on the AT&T exclusive… for some reason, and despite the hefty price, there's no fingerprint authentication provided either.
The cheaper, more condensed nature-loving alternative
As tough as the S5 Active looks, it's also short of portable excellence, which for many is probably a deal breaker. Enter the waterproof but not shock-proof Z3 Compact, endowed with advanced Smart Lock functions after a recent Lollipop update.
This fast and furious munchkin tips the scales at 40 grams less than the GS5 Active, and is far shorter and narrower for easier pocketability, all while handling everything you throw at it with grace, courtesy of a quad-core Snapdragon 801 processor and 2 GB RAM.
The heavyweight battery champion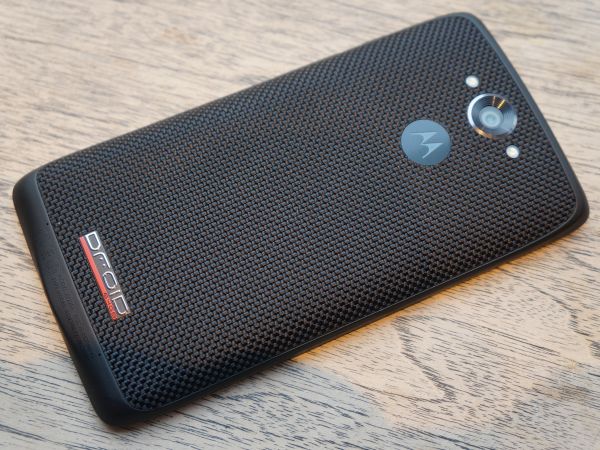 We can't think of anything more annoying than remembering to take your charger or an external power bank on all your business travels, and always getting interrupted by skimpy cell capacity. Well, the Turbo is made of an entirely different mettle, with a gigantic 3,900 mAh pacemaker under the hood rated at a staggering 48 hours of continuous 3G talk time.
The design is ideal to complement your classic, classy, businessy look, with sharp edges, an overall industrial vibe, robust ballistic outer shells and a splash-resistant chassis. Last but not least, the 5.2 incher can go from 0 to 60 percent juice in half an hour, thanks to Quick Charge 2.0 technology.
The ultra-affordable option
Not everyone is lucky to have their employer offer them gratis gadgets or start at a six-figure salary allowing them to score the costliest "tools" off the bat. So, provisionally, the 2014 G can get the job done.
It's not any more secure than other Android soldiers, but on the plus side, runs a silky smooth, modern, near-stock OS iteration. No bloatware means fewer security risks, less chances of random system crashes or reboots, as well as vital data loss.
The untraceable, privacy-first phone
Listed as "temporarily out of stock" on Amazon, but likely to come back soon (hopefully, before the sequel drops), the extravagantly priced 4.7 incher protects your online anonymity like no other, through VPN.
Then you have a slew of privacy-centric functions for phone calls, emails, texts and even cloud backup, some of which unfortunately expire and require additional payments after a year of undercover use. Paranoid individuals will no doubt find extreme happiness in Blackphone's arms, although we have to underline Android here is essentially unrecognizable, due to severe customization and "PrivatOS" forking.
The one you may not need, but really want
Today's mainstream top dog isn't specifically targeted at enterprise users, with a tiny, non-removable battery and sealed internal storage hands down its biggest flaws. Also, there's no protection against liquid interaction whatsoever, let alone more advanced ruggedness.
Ergo, the S6 could break, fall apart or shut down on account of low battery in the middle of the most important video conference of your life, or while out on the job. But think about how good it'll make you look in the eyes of your clients, partners and even superiors.
After all, your image is key for your deal-sealing abilities. Besides, it's got touch-based fingerprint authentication, the most complex Knox support available and device protection-adding Android 5.1 software in certain territories, with others on the way.