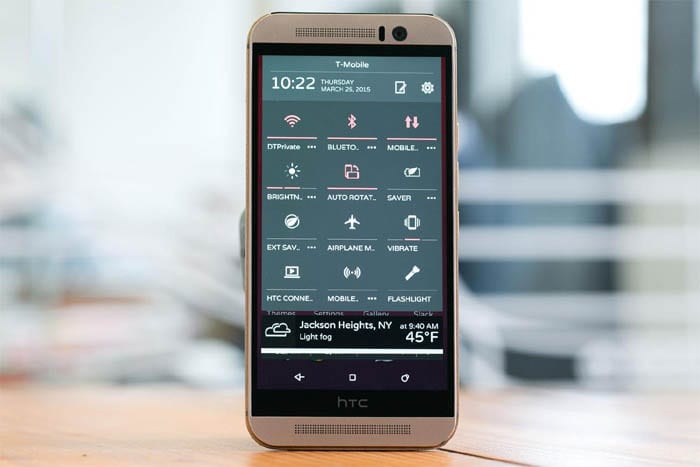 Welcome to the first part of our HTC One M9 Troubleshooting series. We will be providing free support to all One M9 users starting today. So, if you are one of the owners of this wonderful phone by HTC, you are free to contact us any time. Our troubleshooting series will have many parts and for each part, we will address ten problems and their respective solutions.
The issues I cited in this post are the ones reported to us by our readers. Based on the number of emails we received, the most common is the overheating issue that's why it's the first one on the list. If you are experiencing this problem, try to see if there is an available update for your device as HTC rolled out an update that reportedly addressed the problem. The second problem I cited is actually just a glitch but it seems there were many users who complained about it. The good thing is it can easily be fixed and there's no need for an update.
For those who are currently bugged by an issue or two and need help, please email us at [email protected] or post on our Facebook wall and/or Google+ page. Just provide all necessary details like the model of your phone, the version of Android it's running on, and what you think is the problem with it. Include the behavior of the phone before and after the problem occurred.
The following are the problems I addressed. Click on a link to jump to it:
HTC One M9 Gets Too Hot, Overheating
Problem 1: Hello guys. I have been following your blogs for a few weeks now but it seems you haven't published a troubleshooting post for the HTC One M9. I have a problem with my phone. It's getting too hot to the point that it's not comfortable to hold it. I really don't know what the issue is but I randomly am getting errors from different apps. One of the apps that's giving up errors is Spotify. It's saying something about the microSD card so I think it has a problem. But why is it my phone is getting too hot? By the way, this is my first smartphone so I'm still learning how to use it. Help me, please. — AJ
Problem 2: My HTC One M9 is 10 days old and since day 1 I noticed the phone was getting so warm. Don't get me wrong here, I know the difference between "normal" warm from "abnormal" warm. Of course, I did my research online and I found out there were many M9 owners out there complaining about their phones overheating. Mine was just getting abnormally warm but not really "hot" as I could still touch and use it. Well, that was case until after a week. Now, the phone is just literally warm and there was a couple of times when it shut down automatically and I thought it was because the phone was actually overheating. What can you say about this issue? — Mike
Troubleshooting: Hi AJ and Mike! AJ, it seems the problem is really with your microSD card or, at least, that's the cause why the phone is getting warm. It is obvious there are times when the card fails. When it happens, the phone will try to over and over again to detect and read it. That's where warming enters. Remove your microSD card and observe the phone to see if it still gets warm. If not, try reformatting it to see if the issues gets fixed and if still not, then try putting in a different microSD card just to see if the phone is capable of reading a card without warming up. If it's not capable of that, then consider having the phone checked or replaced.
However, if the phone still gets too warm even without the microSD card, then try to see if it's app-related or not. Boot the phone in safe mode and observe closely if it gets warm with all third-party apps temporarily disabled. If so, it's the phone; it's one of those units that gets too warm without apparent reason at all.
Mike, if you've researched about the overheating issue with the M9, I know you've encountered legit claims from other owners that the phone is actually overheating even if the device is not used extensively. HTC denies it's device is overheating and Qualcomm said it's chip isn't the cause of the problem. The manufacturer, however, rolled out a minor update that was said to fix the issue. Oh well, it throttled the performance of the phone a bit and many say the new firmware takes care of the problem. HTC must be working on something that will take care of this issue permanently but we really don't know when the fix will come.
For those of you who might still be bugged by this problem but haven't received the update that's said to address it, turn off the High performance mode in the Developer options. This is one way to throttle the performance of the phone but it helps. Also, turning on the Power saver mode helps but it will limit the phone's performance and features considerably.
HTC One M9 Auto-rotate Feature Not Functioning
Problem 1: Hi guys! I don't see any One M9 troubleshooting posts yet but I'm contacting because I have a problem with my new phone. It's barely a couple of weeks old and I just noticed the problem the other day when I tried viewing a webpage in landscape (phone turned sideways), it didn't. Since I was busy that time, I let it go thinking it was some kind of a glitch. Today, however, I tried viewing webpages in landscape again and it's not rotating. I checked the settings and Auto-rotate screen is enabled. So, I don't know where the problem is and how to fix it. Help me. — Sheena
Problem 2: Good morning! Do you guys happen to know how to fix the HTC One M9 that doesn't auto-rotate? My phone started to do that recently and I'm really not a savvy when it comes to smartphones and gadgets. I often play some games in landscape so I know it has been working before. But right now, it will only rotate sideways if I play a games that's already in landscape mode. How can I solve this problem, please? — Merly
Problem 3: I need your help guys! My HTC One M9 doesn't want to rotate it's screen even if I completely tilted it sideways. I really, honestly, don't know what caused this problem but I know that my phone has been working properly yesterday. There was an app I installed yesterday but already uninstalled it because it was the first thing I suspected but still the problem wasn't fixed. I need your technical expertise on this guys. Thank you! — Vince
Troubleshooting: Hey guys! I know you may have already done this but please make sure the Auto-rotate screen feature is enabled and then, reboot your phone. For minor hardware and firmware glitches, a reboot may be able to fix them.
If the problem remained, then reboot the device in safe mode to temporarily disable all third-party apps. While in that state, try to see if the phone still won't auto-rotate because if so, then the problem could be in the gyroscope or the firmware itself.
With that, the next thing you should do (especially if the phone has been auto-rotating before) is to recalibrate the gyroscope. Launch the Help app > tap Hardware misbehaving? > Hardware diagnostics > G-Sensor test. Follow on-screen instructions. After the calibration and the display won't auto-rotate, perform factory reset. This is to rule out the possibility that it's a firmware glitch. After the reset and the problem persists, then it's time you let HTC know about it or your provider.
HTC One M9 Drains Its Battery So Quick
Problem 1: So I upgraded from One M7 to M9 thinking it's way better than my previous phone but I was so disappointed when I found out it's draining its battery like crazy. I am not an extensive user so my M7 would actually last about 12 hours. I would charge it in the evening so that when I wake up it would be fully-charged. I could go all day using it without the fear of going empty mid-afternoon but that is just not possible with my M9. Around 2 PM, the battery is around 16% to 20% and the phone will keep telling you it needs to be plugged in after 30 minutes when that happens. Why is this happening? Can this be fixed? — Jenny
Problem 2: Hello droid guys. Thank you for providing us a free medium to seek help. My problem is with my HTC One M9; it's eating its battery faster than my old flip phone. It cannot even last more than 6 hours. I have to plug it in during lunch so that I can use it until I come home from work. When I arrive home I will again plug it. With my flip phone, I can go 24 hours without charging that old phone so I am really surprised an expensive "smart" phone like can't last a day. Help me solve this problem, please. — Mel
Troubleshooting: Hi Jenny and Mel. There are a lot of factors that may contribute to the energy consumption of your phone but before you go into discovering whether it's apps or the firmware that has issues, try to feel the temperature of your phone. If it gets so warm even if it's used extensively, then it's more of a hardware problem than anything else. Otherwise, try to check what apps are sipping all that juice so fast. Go to Settings > Power > Battery usage so you will have an idea where to start. Apps that use more power will either be disabled or uninstalled.
I understand you want to use the phone to its full potential but if it's important to you to keep your phone powered up until your work is finished for the day, then turn the Power saver mode on. I know you're handicapping your phone when you do that but you don't have a choice except having the phone replaced. Oh by the way, you may also want to decrease the Brightness level of the display, turn off syncs, block notifications, and turn off vibration.
HTC One M9 Won't Power On
Problem 1: Hi guys! I have a problem with my new (I mean 2-day old) HTC One M9 phone. It's just won't turn on no matter what. I thought the battery's dead so I charged it; it won't charge! Is there anything else I can do to turn it on?
Problem 2: Hello people. Thank you so much for everything you're doing for us users. You know my phone just turned off today and it won't power on…it won't charge either. So, I think the battery's just dead that's why it won't power on. However, I can't get it to charge and that's the problem. Why does a phone like this won't charge? What do I do?
Suggestion: Hello guys! For a phone that won't charge nor turn on, there's nothing you can do, actually, except send it in for repair or replacement. So, contact your provider or the retailer where you bought it and have it fixed by their technicians or get replaced with a new unit. Always remember, opening the phone by yourself and tearing the seal will void the warranty.
HTC One M9 Cannot Send/Receive MMS
Problem: Hello droid guy! My HTC One M9 is a month old and so far, so good. I haven't actually sent a picture message before I don't know if the problem I have now was happening since day 1. Yeah, the problem is that I cannot send a picture message and can't also receive because two of my friends said they tried to but I didn't get it. Help me please. Thanks. — Sheila
Troubleshooting: Hello Sheila. I don't know what your service provider is and where you got your phone but to fix this issue, try to enable or turn mobile data. After that, if the problem still persists, call your service provider, ask for the APN settings and let the rep walk you through setting it up on your phone. That's it!
HTC One M9 Slowed Down After Installing Apps
Problem: So, I got a new phone, One M9, and I set everything up; my emails, contacts and installed apps. Then, the phone slowed down considerably. I don't know why but it's really slow for a powerful smartphone like this. Can you help me please. I never had an issue with my previous phone. — Jan
Troubleshooting: Hey, Jan! It's probably just an app you installed. Boot the phone in safe mode and see if it lags or freezes while in that state. If doesn't, then find that app that causing the problem and uninstall it. That should do it. However, if the phone still lags or becomes really slow while in safe mode, then reset it! I understand you've already setup everything but you really don't have a choice right now. After the reset and the phone is still slow, have it replaced immediately.
Removing Pre-installed Apps on HTC One M9
Question: Hello guys! I have a quick question for you, how can I remove the apps that come with the phone? Oh, my phone is the HTC One M9, the new one. It's running the latest firmware version, not rooted. I'm not really a tech person and it's my first Android phone so I'm still learning how to use it. Thanks guys! — Hayley
Answer: Hello Hayley! Some pre-installed apps can be uninstalled but some just can't and one way to know which of them can be ditched, go to Settings > Apps and swipe to the All tab. Scroll to and tap the app you wanted to remove. If there's an Uninstall button, then it can be uninstalled. Otherwise, try to find the Disable button. In this case, the app including its services can't be uninstalled but can be disabled.
Moreover, I don't know why you want to uninstall the pre-installed apps but there's another way to somehow "hide" the app so that you won't see its icon when you open the app drawer. Tap the Home button, then the Apps icon. Touch the icon that shows three dots at the top right and then choose Hide/unhide apps. There will be checkboxes beside the icon of every app, tick the ones hidden and hit Done. You can still show all hidden icons by following the same steps and unchecking them.
How To Remove Blinkfeed From HTC One M9
Question: Hey guys. I know Blinkfeed is part of my One M9 but I want to remove it. How can I do that? Or can I remove it from my phone at all? I just don't like it. Thanks guys! — Jason
Answer: Hi Jason! Yes, you can definitely remove Blinkfeed if you don't like it. Just head to Settings > Personalize > Manage Home screen pages > scroll to Blinkfeed > tap Remove. Bye, bye Blinkfeed!
How to Turn Off Animation Scales on HTC One M9
Problem: Hello. Okay, so my phone's kinda slow. It's the HTC One M9. I asked my son how to make it smooth like before and he said to turn off animation scales. How on earth can I do that? Children today can't just provide you with complete information! — Joe
Solution: Hey Joe! Yeah, children today are really kind of busy…with their gadgets, most of the time. But he's right. One way to make your phone buttery smooth again is to turn off animation scales. There are three of them and you can find them under Developer options.
The first thing to do is turn on the Developer options on your phone. Go to Settings > About > Software information > More > tap the Build number seven (7) times.
Now, go back to Settings. Find Developer options and tap on it. You can now see Window animation scale, Transition animation scale and Animator duration scale. Just their values to zero (0) and you'll notice the difference for sure.
Enable Double Tap To Wake Up & Sleep Feature
Question: Hello guys! First of all, I just want you to know I'm a noob when it comes to technology that's why I'm seeking help. I got this very complicated phone, thanks to my daughter! She gave me this phone because she said it has a lot of features I will like. True enough, the phone is very good with its call and text functions. I tried to browse the internet and found something interesting about this M9 phone. It said in one article that among the many features is the double-tap the screen to wake the phone up. This feature is really very useful to me. I think I even wished my old phone to do that the moment I touch it but the old flip phone by Motorola couldn't do that. Now, please help me how to enable this feature. Thanks! — Mary
Answer: Hi Mary! Yes, the new HTC One M9 has the feature called Double-tap to wake up & sleep. Head to Settings > Display & gestures > Motion Launch gestures > and tick Double tap to wake up & sleep feature. With that feature enabled, you can wake your phone screen by simply double-tapping it. You can also put it to sleep by doing the same. Enjoy!
Engage with us
We are always open to your problems, questions and suggestions, so feel free to send them at [email protected] We support every Android device available and we are serious in what we do. This is a free service we offer and we won't charge you a penny for it. But please note that we receive hundreds of emails everyday and it's impossible for us to respond to every single one of them. But rest assured we read every message we receive. For those whom we've helped, please spread the word by sharing our posts to your friends or by simply liking our Facebook and Google+ page or follow us on Twitter.