Verizon is now rolling out a minor update to the LG G2 smartphone, carrying the version number VS98027A. Some other minor features like the renaming of the ISIS app to Softcard, toggling the Advanced Calling 1.0 feature as well as a bunch of bloatware apps are present here.
The update removes LG's Vu Talk app for reasons yet unknown to us, while a variety of the stock apps from the company are being updated. Verizon rolled out an update to the LG G2 back in September last year with a similar changelog, but that was to enable the VoLTE feature from the carrier.
While the update notification should automatically pop up on your smartphone, it might take a while to actually hit your device. To fast forward the process, you might want to try hitting the Settings and navigate to the About Phone page to manually check for an update on the device.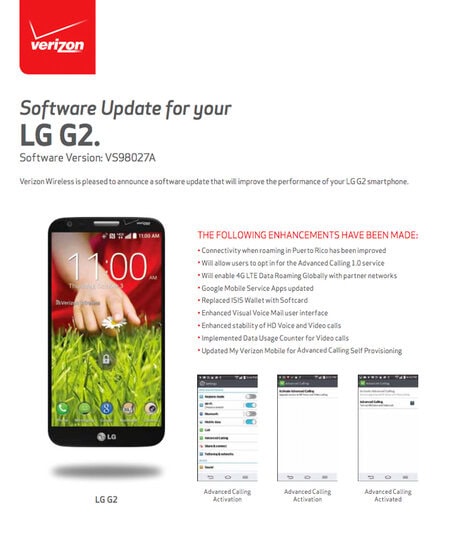 Source: Verizon
Via: Droid Life