It's been a lackluster past few years for stumbling mobile giant HTC at the global box-office, and if the Taiwanese are ever to spark up a comeback, the next three to six months may well be critical. For the company's stability on the whole and future prosperity.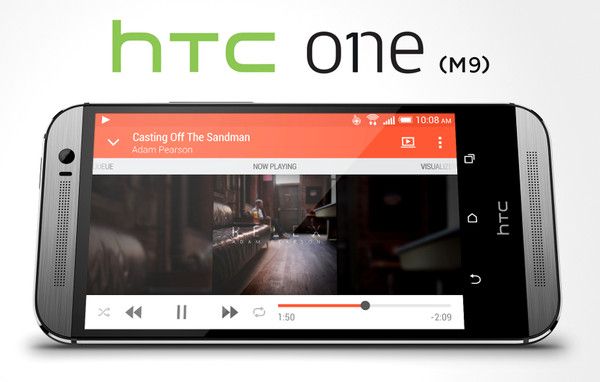 Clearly, the One M9 could take the role of saving grace, but the M8 sequel has to hit the nail on the head in everything from release timing to build quality to sheer power. Where its predecessor excelled, the Hima has to shine brighter, and where it failed to impress, this bad boy needs to step it up.
M9's triumph also markedly depends on Samsung's Galaxy S6 upgrading efforts, though it'd be exceedingly simplistic to surmise that if the S6 flops, the M9 rises, and the other way around. For the greater good of the industry, we obviously hope both will knock our socks off with innovation, progress and hefty hardware advancements. And then, may the best man PR department win!
For now, since we already put the Galaxy S6 under the microscope, it's time we took the HTC One M9 for a similar spin. A speculation-fueled spin, that is, as there are still plenty of question marks hovering around the elusive "Hima".
M9 rumor roundup – the "when" of the equation
A timely introduction and swift turnaround do not a sales hit make, but they're clearly the first essential step towards achieving success. It's ergo crucial for HTC they come out with the M9 before Samsung rolls out the S6, which may not be as simple as it sounds.
The first battle's been won, and HTC's MWC press event is scheduled for March 1, 24 hours before the GS6 debuts. But that's not going to mean a darn thing if Sammy eludes Qualcomm's oft-rumored Snapdragon 810 overheating glitches by equipping the S6 with a homebrewed octa-core 64-bit Exynos CPU.
Meanwhile, HTC has no in-house 810 alternative, so if the processor is indeed delayed, they'll just have to wait it out. Until April, maybe May. What an ominous prospect!
One M9 design preview
HTC is a construction champion, there's no denying that, but again, their success seems to depend a whole lot on the competition's moves. If Samsung makes the S6 all-metal, HTC's one and only ace up the sleeve so far will be canceled.
Or maybe not, as aluminum should meet a compound called silicon carbide for Hima's case. Don't let the "silicon" in the name fool you, this is to further improve the robustness and durability of the already strapping M8. On the not so bright side, the reformed build could reflect poorly on weight and thickness.
As far as the overall design language goes, live photos leaked online this past week suggest no major changes are in store. With a few worthy exceptions (rear camera, bezels), the M9 will be an exact replica of the M8, and we're totally fine with that.
Display questions – Full or Quad HD?
This dilemma is said to be causing a stir in Sony's camp as well, whereas LG and Samsung aren't even considering it. It's QHD, aka 2K all the way for the two Korean titans.
From Taiwan, we've heard many different stories, circling numbers as diverse as 5, 5.2 and 5.5 for screen size. Needless to say that the latter would definitely warrant a move beyond 1,080p, while 2,560 x 1,440 pixels on 5 inches of glass is probably overkill.
Processor, RAM and battery capacity
Could HTC be seriously thinking of sticking to a Snapdragon 805 CPU if the 810 is really in trouble? We wouldn't rule it out, but it's a long shot. After all, it might mean getting left behind in the spec race… again.
For crying out loud, there's no comparing the two, as the 810 is an octa-core, 64-bit-capable beast built on 20 nm architecture. And it should be quite frugal as well, which is why a 2,850 mAh cell would suffice to keep the lights on for hours and hours and hours. Especially on a 5-inch FHD panel.
Remember, the 5-inch One M8 packs a smaller 2,600 mAh juicer, is also Full HD and can last a staggering 20 hours or so between charges in continuous talk time.
The RAM affair is simpler, and no one seems to deem HTC as bold as LG or Asus. So, yeah, it's 3 gigs here 100 percent. Make it 95. Miracles are known to happen, right? They're rare, but they do happen.
Camera preview – bye, bye, UltraPixels
Wait, hold on, not so fast. We mean, bye bye, UltraPixel rear snapper, as the front cam is tipped to preserve the controversial technology for an as-yet unrevealed pixel count.
The main photographic unit however should evoke no quality debate, and blow our minds with 20 megapixels of snapshot potency. Optical image stabilization too? Perhaps, plus Eye Experience software add-ons and numerous other tricks we can't be privy to just yet.
Software – a "sensible" Lollipop experience
Let's not kid ourselves, even if Samsung plans to trim the fat off TouchWiz and come closer than ever to stock Android on the standard S6, HTC's Sense UI is here to stay. In the same relatively intrusive form as before, with a bigger emphasis on BlinkFeed, increased customization, better use of battery-saving functions and the works.
We're being vague, and we apologize for that, but in all honesty, we know very little of Android 5.0's specific look with Sense UI 7.0 on top.
Audio, storage and others
HTC's high-end trademark, front-placed BoomSound stereo speakers, isn't going anywhere either, and it might gain Bose sound improvements, plus Dolby 5.1 surround technology.
MicroSD storage expansion should be at your disposal for the second year in a row, despite the sealed rear cover, and internally, digital hoarders will get 32, 64 or 128 gigs of space to cultivate their disease passion.
An interesting rumor that just popped up says the HTC One M9 could also recognize fingerprints for online payments and easy device unlocking, although ultimately, the feature (gimmick?) is likely to be saved for a future Max-like rehash, dubbed M9 Plus or Ultra, and also set to sport a 5.5-inch Quad HD display.
To challenge Samsung, Sony and LG on all fronts, HTC is expected to bring its first ever wearable to Barcelona in March. This ain't a fancy smartwatch, rumor has it, but rather a more trivial fitness band developed in cahoots with Under Armour.
Aaaaand that's a wrap, ladies and gents, at least for the time being, with all questions to be answered in the following 40 days or so. 40 days and 40 nights of patience and Droid Guy scrutiny, that's all that's left.